You might be wondering if a polished concrete floor is a good option for your commercial or retail space. Many flooring surfaces are on the market but polished concrete flooring is unique and offers a seamless and stunning finish. There are many benefits to choosing Floor Polishing in Geelong services, such as durability, easy maintenance, and a wide variety of stains and finishes to choose from. We'll explore all the reasons why you'll love polished concrete floors for your business.
Dusting and Efflorescence Have Come to an End
One of the best benefits of polished concrete flooring is that it creates an impervious surface. This means that dust and dirt cannot accumulate on the floor, and you'll never have to worry about using a duster or a vacuum cleaner again! In addition, polished concrete does not allow moisture to penetrate the surface, which means that you will not see any unsightly efflorescence (white powdery deposits that form on the surface of concrete).
Having polished concrete flooring is a popular choice for many types of spaces. Not only does it look great, but it can also provide some benefits that other flooring options cannot. For example, polished concrete is highly reflective, meaning that it can help to create a brighter space and increase the overall ambiance.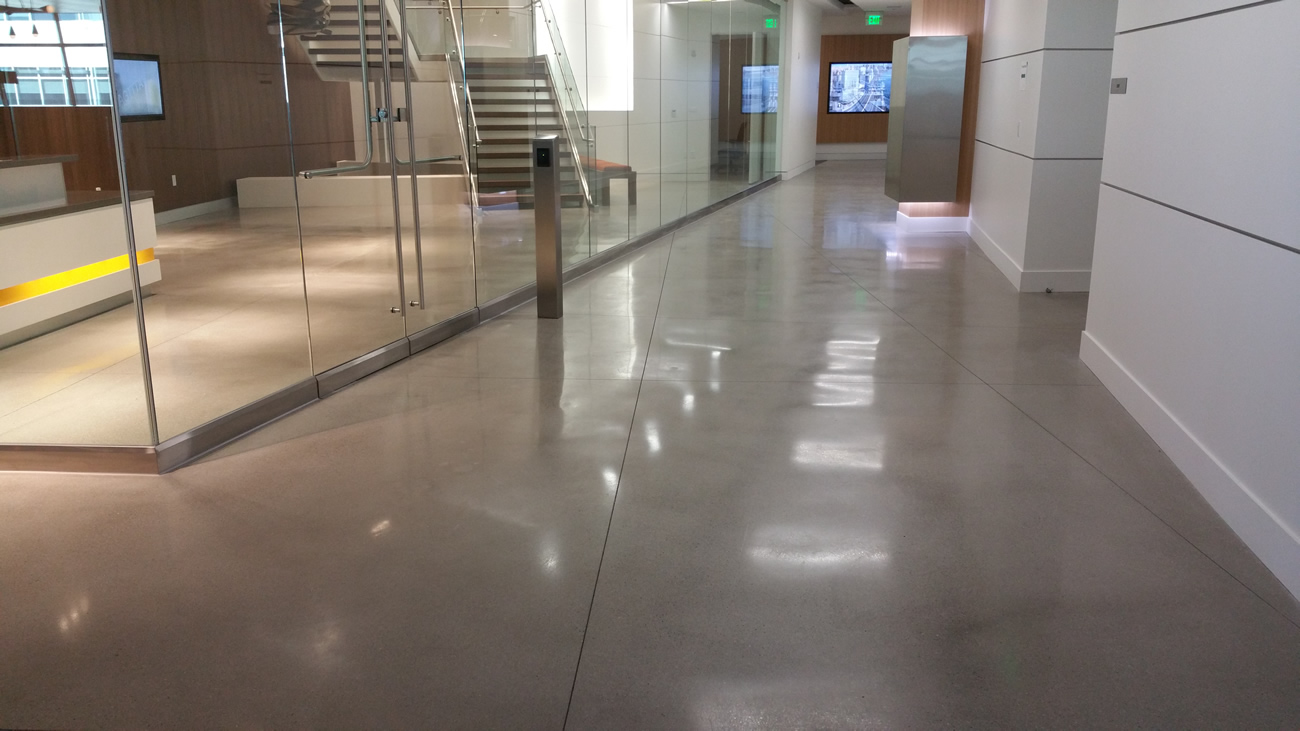 In addition, because polished concrete is a natural material, it allows ambient light to pass through more easily than other flooring types. This can be particularly beneficial in retail spaces where you want customers to be able to see your merchandise as clearly as possible.
Cost-Effective Ongoing Maintenance
A polished concrete floor is a beautiful and durable solution for your commercial or retail space, and it's also very cost-effective. Unlike other flooring materials, a polished concrete floor requires no ongoing maintenance once it's installed. This means you can enjoy your beautiful new floor for years to come with no added expense!
A polished concrete floor is a beautiful and durable option for your business. Not only does it look great, but it also offers a higher level of slip resistance than other flooring surfaces. This is important for businesses that are open to the public, as you want to ensure the safety of your employees and customers. With a polished concrete floor, you can rest assured that everyone will be able to walk safely on your premises.
Minimal or No Disruption in Operations
With getting polished concrete floor, you can minimize or completely avoid any disruptions in your business operations. Our team is experienced in working around your schedule so that the work is done with the least amount of inconvenience. In addition, there will be no mess or clean-up for you to worry about. You'll be able to walk on your newly polished concrete floor as soon as we're done!
Conclusion:
Investing in Concrete Polishing Melbourne continues to pay off for years to come. It's easy to care for, costs less than traditional flooring options, and can be customized to reflect your unique style. Our Floor Polishing in Geelong team is dedicated to providing excellent service and helping you select the perfect concrete polishing solution for your space.
SEO Master
https://totalfloorservice.com.au/wp-content/uploads/2013/07/logo-new.jpg
SEO Master
2022-03-04 15:36:36
2022-03-04 15:36:36
What Makes You'll Love Polished Concrete Floor For Your Commercial Or Retail Space?